The 200-Restaurant Project started as a New Year resolution.


The challenge is to explore the world in a new light and to go beyond the comfort zone. Food is eclectic and exciting, and people have different ways of preparing it. This project has pushed me to visit various places and get a taste of differing personalities and culture. Now that it's nearing its close, I've definitely grown and understood how going beyond the familiar and famous has its benefits, too.


Background
The project started in January with only 100 as the target. Since I had been a stickler for my comfort zone, I quickly hit it last April. I told my family and friends about the challenge and they recommended amazing places. They joined me as I look for newly opened places or highly revered restaurants. Some of them were grateful: it helped them open their eyes to new experiences. Some of them started their own, applying their twists.


This challenge has rules, but they were never to constrain anyone. The point was to encourage people to explore life in general. I got to sit down with the people I care about and talk to them personally–something we often forget because of how we openly communicate online. I have scheduled bi-weekly and monthly dinners with my best friends. My family sees the value in it too: they get to recommend more places to their friends instead of sticking to their usuals.


Rules
Visit new restaurants. You should've never tried this place, whether through delivery or dine-in, even once in your life before this point.

Don't include branches. If you've eaten in one branch, you're not allowed to list the other branch as another restaurant.

Go global. Local and international restaurants count.

Stalls, cafès, restaurants, bistros, bars, dessert joints, and anywhere that offers food count.

You can visit with your friends, family, or by yourself.

There's no limit to the budget.

Visit at any time, whether for breakfast or a casual coffee break.

Documentation is necessary; thus, creativity to do so is highly recommended.


Means of Documentation
I'm still looking for other ways to document this project properly and more visually, but here are the items on my list.


Journal or Paper
Between all the online tools I tried, listing down all the restaurants was the most effective. Since I prefer typing than writing, I kept it simple with this format:


Right now, according to my journal, I'm already at my 193rd. Since writing is private, I didn't have to worry much about the format, and I could keep it as simple or as complicated. Scanning is hard since it's done manually. Sometimes you forget you've already tried it, and it gets disqualified.


Google Maps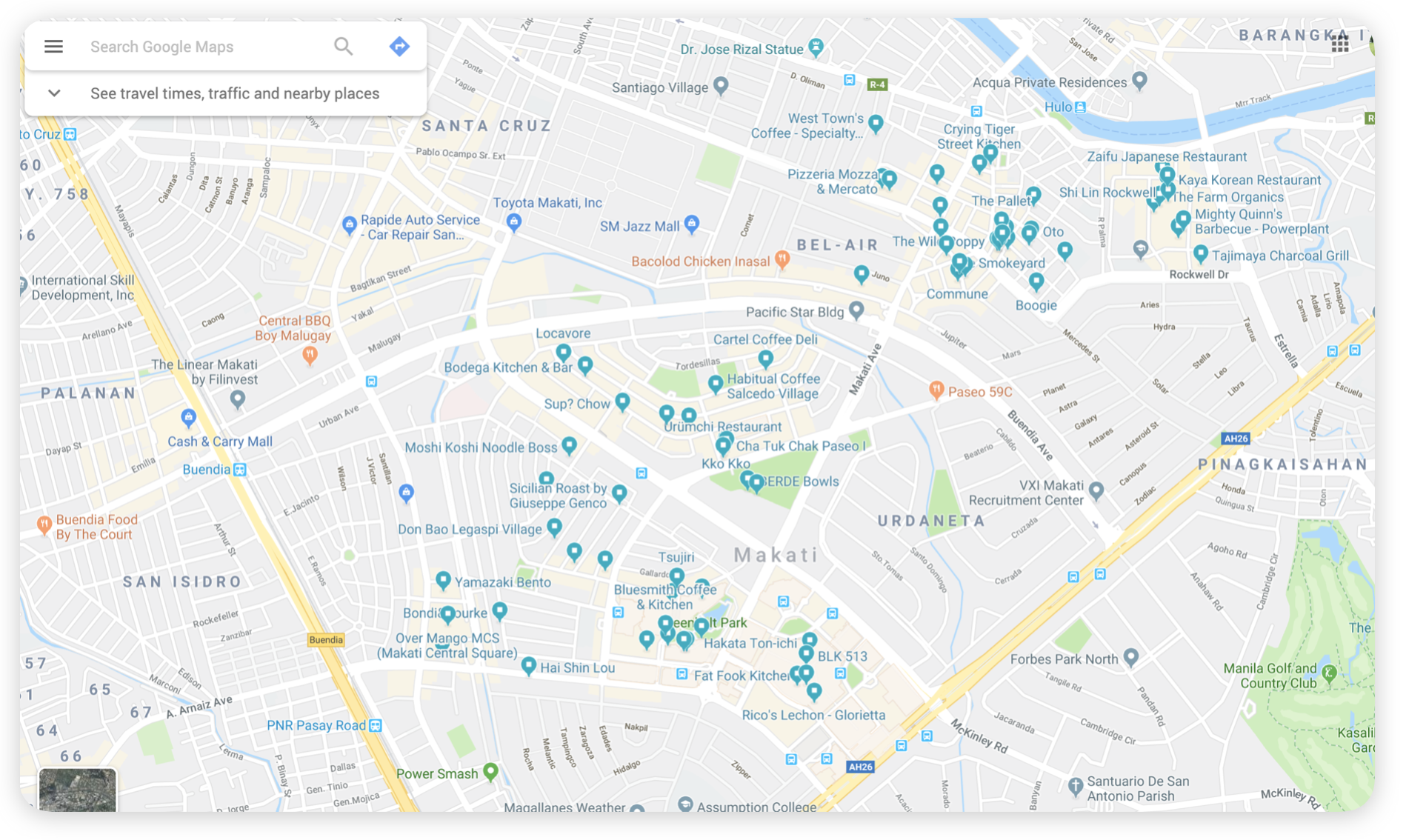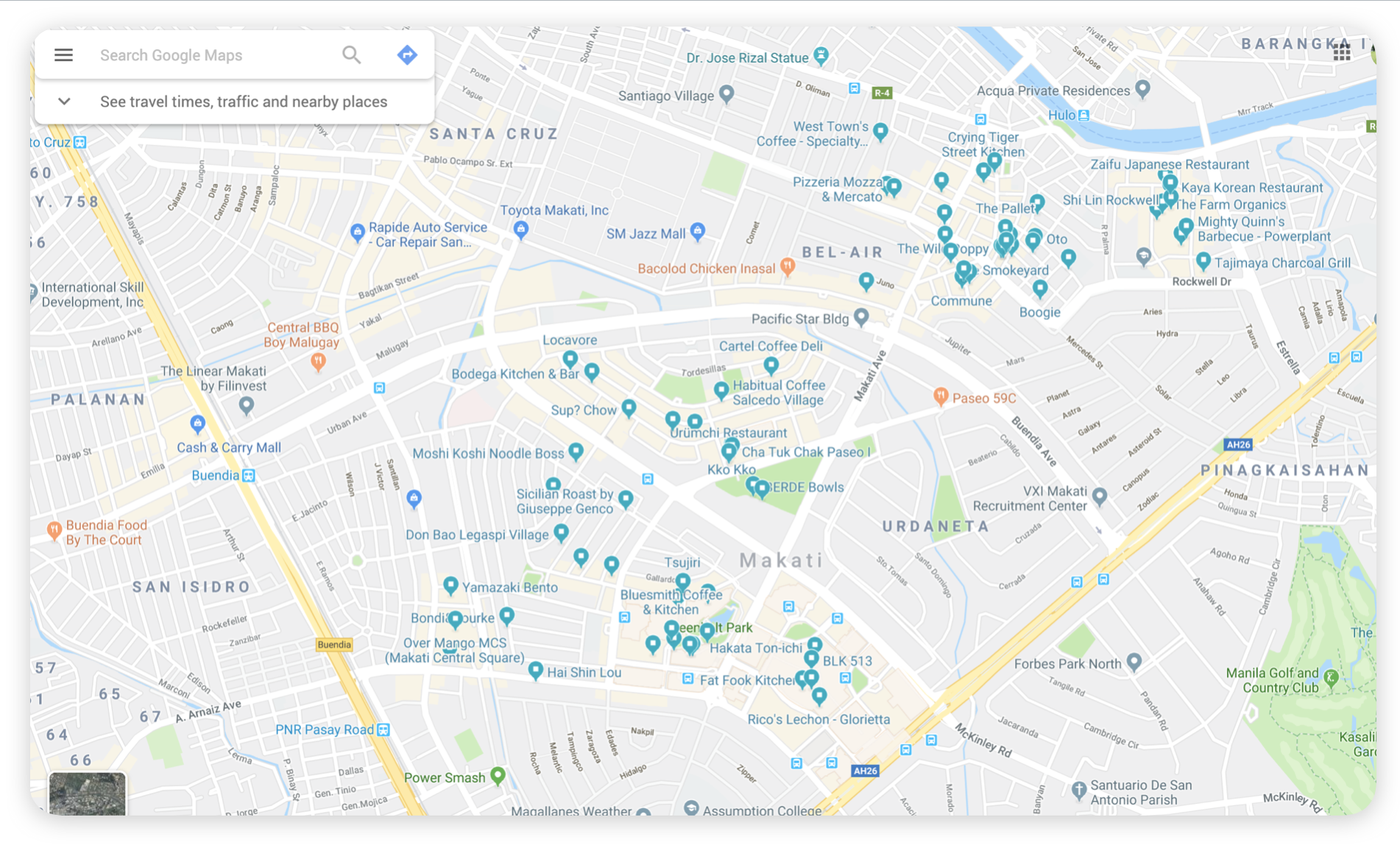 Google's feature, Your Places, is key in planning trips and itineraries, but it can also be used for bookmarking restaurants you've already tried before. As a visual thinker, I rely on Google Maps to pin those places I visited, and it prints out a lovely picture across countries.


The main con is that not all restaurants or stalls are on Google. From the 193 I listed on paper, I was only able to find 177. I still need to double check the list with the ones I have saved on this app. Regardless, its reach is limited, but it does help you out whenever you're looking for a place you're eyeing or getting reminders of the restaurants you've already visited.


Unlike paper, it's also very accessible through your phone, and searching for any place is a lot easier instead of scanning one by one. Its Review section is pretty helpful, but I heavily rely on my Zomato app for those.


Notion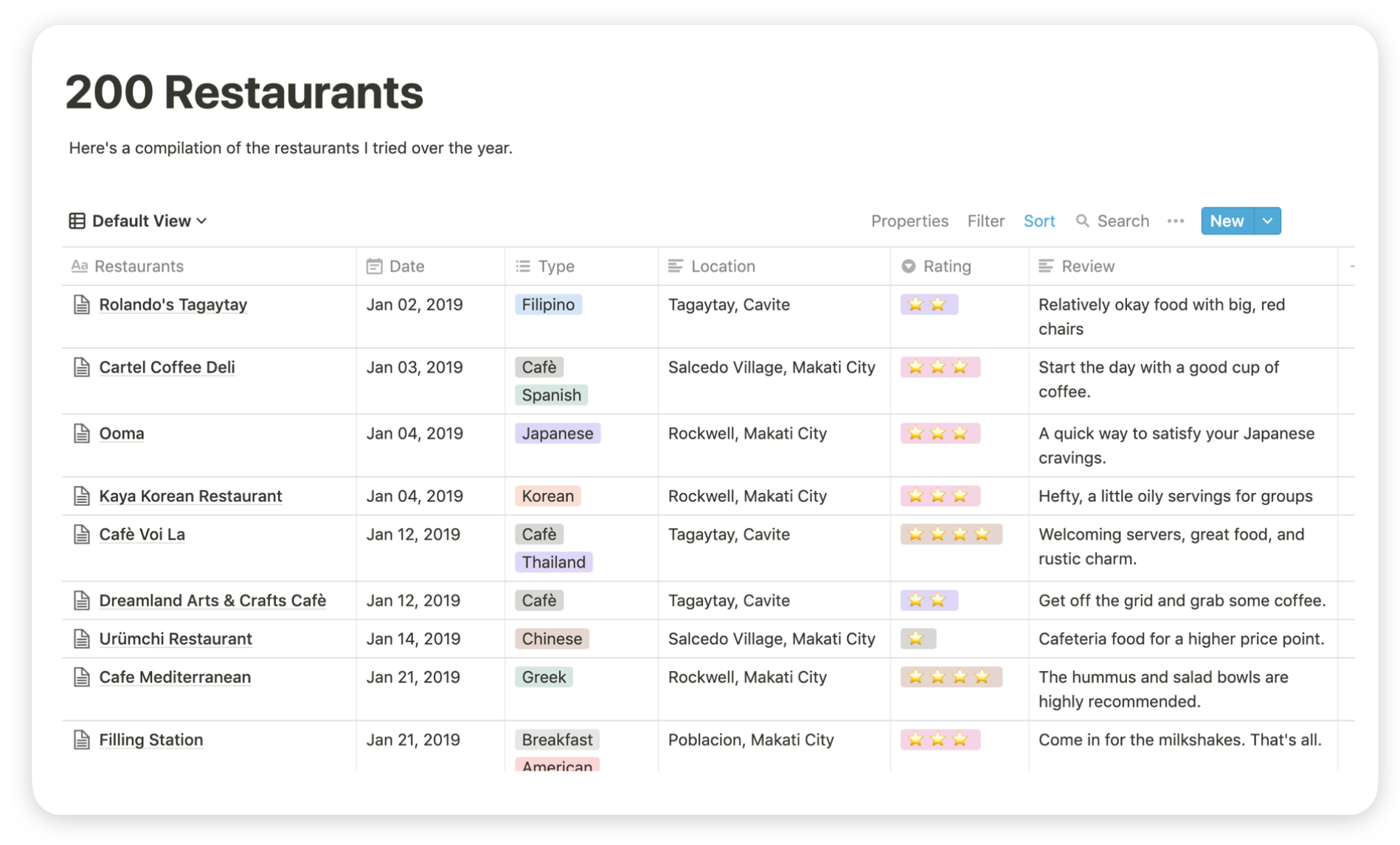 I love Notion, and its flexibility is amazing. I'm still in the process of migrating the information from my journal to Notion. Aside from the list I discussed earlier, I added the Cuisine Type, Location, Rating, and Review fields. You can also sort through your entries fast; recommending the best ones is now done much easier.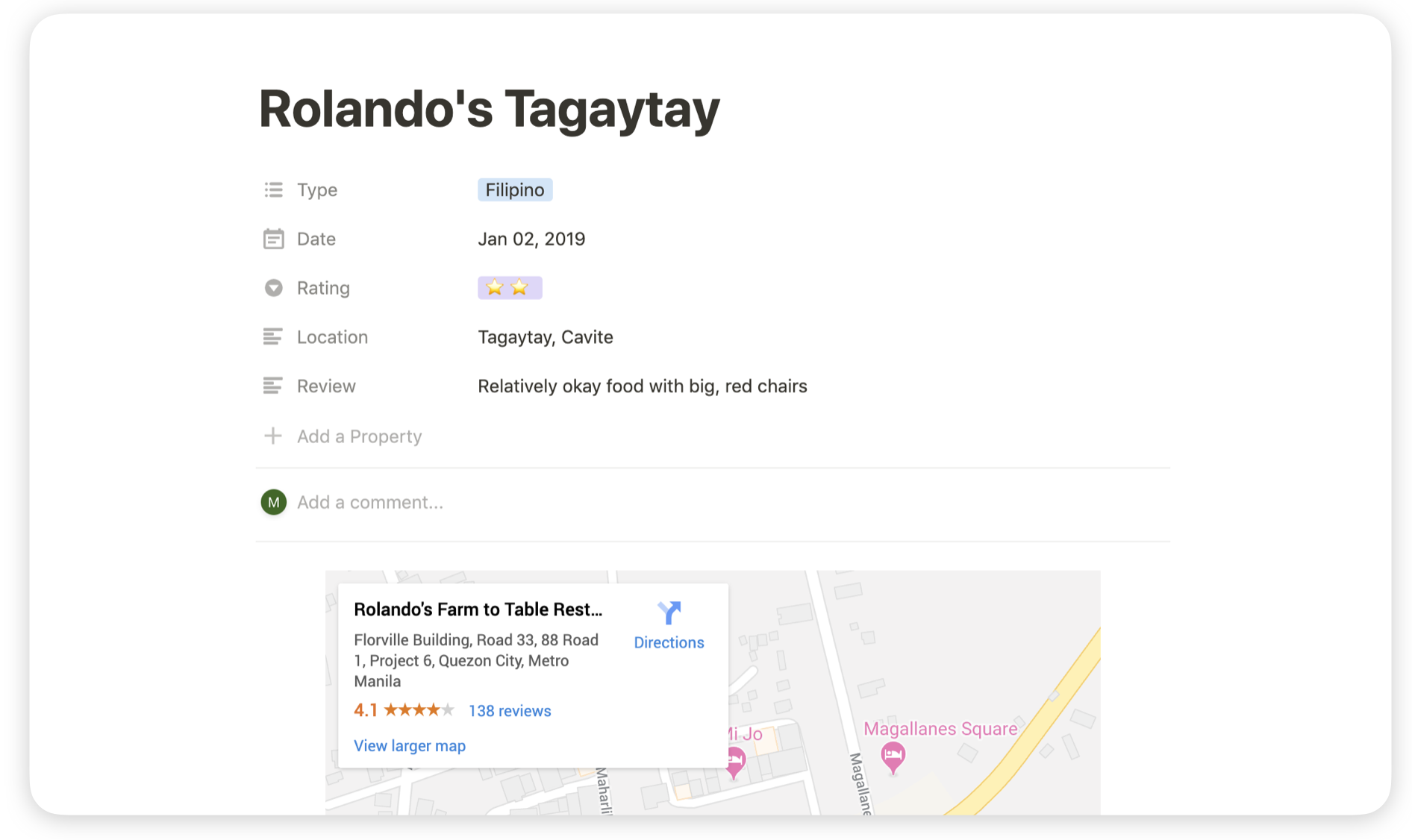 What I also love about it is how you can add a page template to each entry. This is just an example of what I have so far. Notion automatically enumerates your properties in an organized list, which they lift from the table view. The calendar view is also pretty nifty, and you can switch which of the properties you want to show across the calendar. To me, while list view and page inserts are easier to look at, I still use the calendar view for an at-a-glance perspective.


Like Google Maps, Notion is very accessible and navigable. I don't find it as visual as Google Maps despite the embed map feature. For sequential updates, Notion is a great tool to try. It's flexible and you can add as many properties as you like without the table design suffering. I still prefer writing over any online tool to keep track of the restaurants, but only because it adds that personal flair and removes the stiffness you get from using online apps.


Conclusions
I haven't finished anything yet, including my project. To be honest, I've adapted restaurant explorations in my lifestyle already. It's almost automatic for me to look for new ones whenever I eat out. I've yet to try the system with other things, but I'm pretty happy with my results so far.